Duckweed Urban Grocery Store
If you're looking for a unique and conveniently-located urban grocery store, then we are your go-to place!
With locations in downtown and the Channel District, we exist to provide the essentials, and some luxuries,
to urban dwellers in the city of Tampa.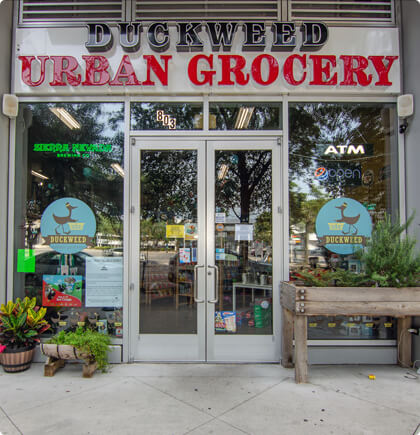 Duckweed Urban Market Tampa
Duckweed got its beginning one Sunday morning in 2011 when our original owners, who lived in downtown Tampa, realized they were out of eggs and couldn't make the breakfast that they had planned to prepare. Wishing there was a local downtown grocery market, the two instantly realized a need for a downtown location to buy groceries. And so we began!
Today, we have two locations: one in downtown Tampa, and one in the Channel District. You can visit us at the closest location to you! We serve Tampa urbanites by providing locally sourced, organic groceries, as well as some additional luxuries and conveniences, including:
Honey
Olive oil
Deli selections (including Vegan options)
World-famous William Dean Chocolates
Liquor (in our Channel District location)
Why Shop at Duckweed Urban Grocery Store?
There are so many reasons why downtown and Channel District residents shop at our stores, including:
Desiring to support the local Tampa community by purchasing groceries that are made locally.
Wanting specialty items you can't find elsewhere.
Searching for a wide selection of vegan food items.
Wanting to find a local liquor store (which is found in our Channel District location)
Wanting Downtown and Channel District grocery delivery services (available for order through our Duckdash Delivery app on iOS and Android).
A Different Kind of Grocery Store
As Tampa's first downtown grocer, we've always been committed to providing those in our urban area with grocery necessities and conveniences, while focusing on locally sourced items as well as organic food options. You simply can't find the selection of foods and other products we offer anywhere else in the Tampa area, much less so close to home!