When our original owners opened our first urban grocery store in downtown Tampa, they did so because they realized there was nowhere for downtown residents to quickly and conveniently purchase kitchen staples and specialties. As we've changed ownership and expanded our locations to the Channel District and very soon to the Westshore Marina District, we've realized that there's a shortage of places to purchase liquor in Tampa in these areas. For this reason, in addition to having urban grocery store locations, we also have a liquor store in Tampa, FL in the Channel District and the new Westshore Marina District store as well. Visit us today to see our wide variety of liquor!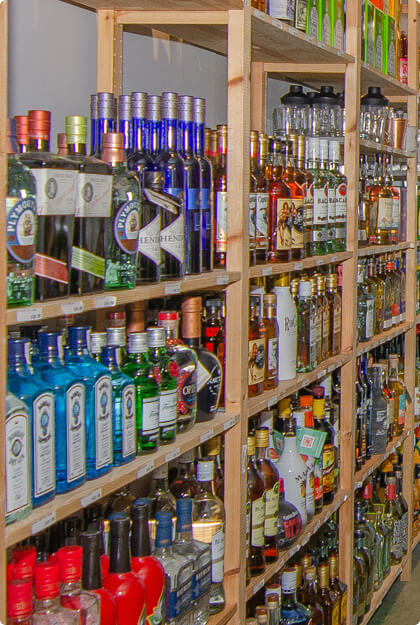 Liquor Store Tampa
The goal of our liquor selections is to offer local residents a wide variety of alcoholic beverages beyond beer and wine. While we definitely offer a wide selection of those alcoholic beverages, we are a great local place to purchase a variety of spirits, including:
Vodka
Tequila
Rum
Whiskey
Bourbon
Scotch
Gin
And more!
We also provide our local Tampa shoppers with a wide variety of mixers for their favorite cocktails, from pre-created mixers to fresh-squeezed specialty juices that can make your favorite alcoholic concoction taste amazing.
Order Liquor in Tampa To-Go With our Duckdash Delivery App!
Our patrons who are 21 and older can use our Duckdash Delivery app, available in both the Apple App Store and Google Play, to place liquor orders to go. Simply download the app, create an account, and place an order for your favorite spirits and mixers. We're able to quickly and conveniently deliver your order directly to your doorstep, oftentimes as fast as 90 minutes after you've placed your alcoholic beverage order.
Live Organic
Live Healthy
If you're looking for a unique and conveniently-located urban grocery store, then we are your go-to place!
With locations in downtown and the Channel District, Westshore, NOHO Square, we exist to provide the essentials, and some luxuries, to urban dwellers in the city of Tampa
Discover The Difference of Our Local Liquor Options
When you visit our liquor stores in Tampa, you'll immediately notice a difference between other places in the city where you can purchase alcoholic beverages. First, we focus on creating partnerships with specialty and local vendors whenever possible. We also work diligently to bring you international options that are difficult to find anywhere else.
Even if you have a local liquor store in Tampa, FL that you typically frequent, we encourage you to stop by our location to peruse the alcoholic spirits that we offer. We're certain you'll find something that piques your interest, and that you'll love and enjoy for years to come.