While most people think of local urban grocery stores as a great place to get a unique selection of food, you have to admit that they're also perfect locations to get specialty drinks! In addition to being an eclectic grocer, our Channel District location is also an alcohol store in Tampa, as will be our new location in the Westshore Marina District. We also offer a wide variety of delicious non-alcoholic beverages in both our downtown and Channel District stores. Check out our selection today!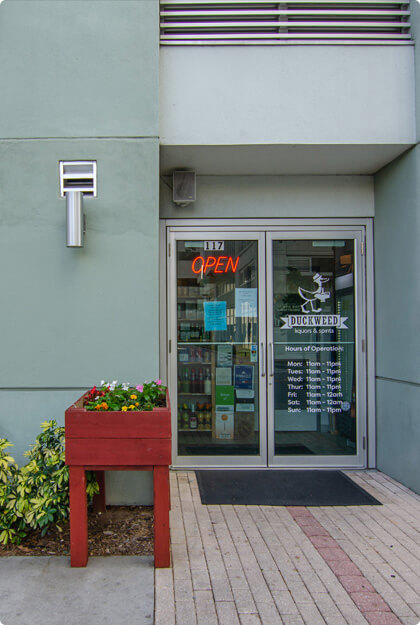 Drinks Near Me
Whether you want a cool, refreshing drink for a hot Tampa summer evening, or you're looking for something cozy and toasty to warm you up during the winter, we've got you covered. At all of our locations, we offer a wide variety of drinks for you to purchase, including the following options:
Milk, including organic milk and dairy-free selections
Specialty, fresh-squeezed juices
Teas
Mineral waters, and more!
Alcohol Store Tampa
If you're looking for adult beverages, we've got you covered. When we realized there was a shortage of liquor stores in Tampa's Channel District, we attached an alcohol store to our grocery store in that neighborhood. Additionally, our new Westshore Marina District store also contains a liquor store.
We offer a variety of alcoholic drinks to patrons ages 21 and over. These include:
Specialty wines, including selections from international vendors
All your favorite beers and even craft beer options
Plenty of spirits to make your favorite cocktails
Mixers for your must-have alcoholic drinks
Download Our Duckdash Delivery App and We'll Bring Your Drinks to You!
Sometimes you'd love to enjoy a nice beer, wine, or cocktail, but you're just too spent to make it out the door and pick up your favorite alcoholic beverage. We've been there and we understand!
With our Duckdash Delivery App, available on iOS and Android, you can order your favorite alcoholic beverages from us, and we'll bring them to you at a time convenient for you, usually as soon as within 90 minutes! This is a great way to order alcoholic beverages in the afternoon if you decide to host a last-minute, after-work get-together at your house, but aren't yet prepared with all the beer, wine, liquor, and mixers to make it an amazing night in. You can even add in your favorite foods for appetizers or even dinner options and make it a dinner party!