The keto diet has become increasingly popular over the past few years as many who follow it have achieved incredible weight loss results. Those who eat keto in Tampa know that the key to sticking to this very low carb diet and remaining in ketosis is having your pantry and refrigerator stocked with compliant foods, including options that you can grab and go with when you're on the run.
In our stores, we carry a wide selection of locally sourced foods, many of which are organic as well, that can be key staples to your keto diet and lifestyle. Visit us today to see our options for yourself!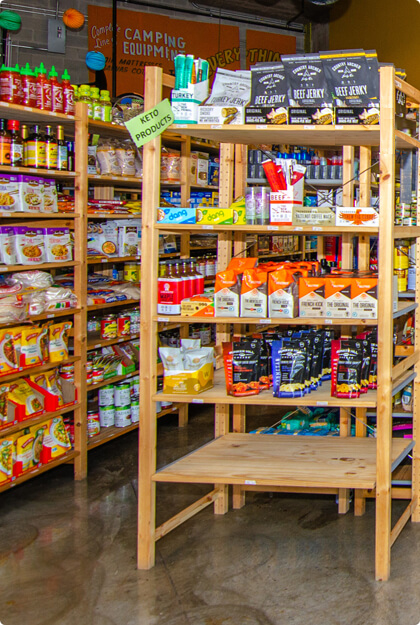 Our Keto Tampa Food Options
In both our downtown and Channel District locations, we offer a variety of no-carb and very low-carb foods to support your healthy lifestyle and encourage transformational weight loss. They include:
Eggs
Meats, including a special deli section with local deli meats and even vegan deli options
Fresh vegetables, many of which are also organic
Nuts
Grain alternatives for your low carb diet
Cheeses, and more
Specialty Keto Foods You Won't Find Anywhere Else
We pride ourselves in partnering with local food vendors so we can bring you great, delicious, and healthy foods that are created in our own backyard. That's why you'll find a great variety of locally sourced foods in our stores – a selection you'll be hard-pressed to find anywhere else in Tampa, much less so conveniently located to you in the downtown Tampa area and Channel District.
Live Organic
Live Healthy
If you're looking for a unique and conveniently-located urban grocery store, then we are your go-to place!
With locations in downtown and the Channel District, Westshore, NOHO Square, we exist to provide the essentials, and some luxuries, to urban dwellers in the city of Tampa
Our Duckdash Delivery App Makes Eating Keto Even Easier
We know that grocery shopping can be a weekly or bi-weekly errand that's hard to fit into your busy schedule. That's why we created our Duckdash Delivery app, which is available on iOS and Android. With this app, you can create a shopping list, schedule a delivery time, and submit it to us. We'll take it from there, and do all your in-store grocery shopping for you and then deliver your items to you at a convenient time for you. It's that easy to stay compliant to your low-carb diet!
Committed to Helping You Stay Keto
Since our original owners launched our first store downtown in 2011 and through today under new ownership and expansion throughout the Tampa area, our priority has been to help Tampa urban dwellers to have quick, easy, local access to the healthy foods they need. We understand just how much eating keto can promote a healthy lifestyle for you, and we are committed to providing low-carb foods in our stores to help you stay in ketosis.