When we opened an urban grocery store in the Tampa's Channel District, we quickly realized that providing our fresh food – including locally sourced organic and vegan options – simply wasn't enough to properly serve the neighborhood. The Channel District was lacking a quick, convenient location to purchase alcohol beyond beer and wine, and so we attached a Channel District liquor store to our urban grocery store. Visit us to see how our selection of alcoholic beverages goes above and beyond what you'd expect from a local liquor store!
Live Organic
Live Healthy
If you're looking for a unique and conveniently-located urban grocery store, then we are your go-to place!
With locations in downtown and the Channel District, Westshore, NOHO Square, we exist to provide the essentials, and some luxuries, to urban dwellers in the city of Tampa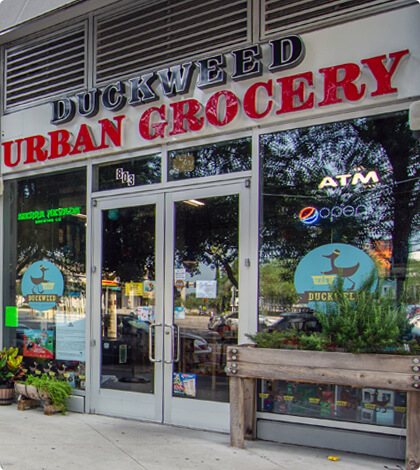 Channel District Liquor Store
At our Channel District location, you'll find a variety of alcoholic beverages to choose from, including:
A vast beer selection, which includes your domestic and import favorites as well as local craft brews that you can pair with meals or use to create beer flights.
An incredible selection of wine, including options from international vendors that are hard to find elsewhere in Tampa.
A wide variety of spirits and mixers to create your favorite cocktails for your own personal happy hour or dinner parties.
Bringing Our Channel District Liquor Store to You
Never run out of beer, wine, or liquor again! Download our Duckdash Delivery app from the App Store or Google Play, and patrons ages 21 and older can place alcoholic beverage orders to be delivered directly to their doorsteps. We schedule mutually convenient delivery times and are often able to schedule deliveries as soon as 90 minutes after you place your order through our proprietary app.
Discover the Difference
We're certain that you'll love the wide, eclectic, and specialty selections of beer, wine, and liquor that we offer in our Channel District location. If you're looking for something special to celebrate, we've got a bottle for you! Visit us today to see what makes our Channel District liquor store special, and keeps locals coming back for more and more.