We know that local vegans have limited options when it comes to finding locations to buy the grocery staples they need to cook and eat their healthy, animal product-free diet. That's why we're proud to offer a variety of vegan food selections to Tampa residents, particularly in downtown and the Channel District.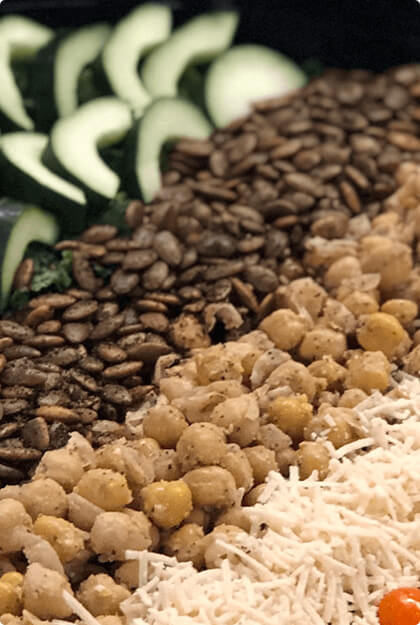 Vegan Food Near Me
Among our many goals and commitments to the local communities, we serve is to provide a wide variety of vegan options to Tampa residents. We offer a unique selection of animal product-free foods to choose from, including vegan deli selections and foods and baked goods from our local partner and vendor, Tampa's own Farmacy Vegan Kitchen & Bakery. We offer these locally-made, ethically sourced and created vegan options for you and your family to enjoy from the comfort and convenience of your own kitchen table.
Making It Easy to Buy Vegan Food in Tampa
One of the biggest challenges that vegans tell us they face is having a pantry and refrigerator full of vegan groceries, not to mention some grab-and-go options they can take with them to eat while they're at work or in town. That's why we work diligently to source a wide variety of vegan options so that you always have the healthy, animal product-free food you want at your fingertips – whether you're in your home or on the go.
Live Organic
Live Healthy
If you're looking for a unique and conveniently-located urban grocery store, then we are your go-to place!
With locations in downtown and the Channel District, Westshore, NOHO Square, we exist to provide the essentials, and some luxuries, to urban dwellers in the city of Tampa
Vegan Food Grocery Delivery Service
We know that Tampa residents who want to eat a healthy diet don't always have the time to fit in a trip to the grocery store, despite how big a priority clean eating is to them. That's why we created the Duckdash Delivery app, which is available in the App Store and on Google Play. From this app, you can order your favorite vegan items that we sell, and schedule a grocery delivery so that these must-have foods are brought right to your doorstep, all at a convenient time for you!
We're Part of Vegan Tampa Culture
We know that being vegan isn't just a diet or nutrition plan – it's a mindset, a lifestyle, and a culture. We're proud to be an important part of the Tampa vegan community by providing the fresh, organic vegan ingredients and delicious pre-made items that you love to eat. Whether you're looking for a locally-made creation or something you might find at a more mainstream store, we have plenty of options for you to choose from all from the convenience of our urban grocery store locations.