Now Open ! The store includes everything you love about our downtown and Channel District locations, including a wide variety of locally sourced food including fresh food, organic food, deli selections, and vegan food.
Live Organic
Live Healthy
If you're looking for a unique and conveniently-located urban grocery store, then we are your go-to place!
With locations in downtown and the Channel District, Westshore, NOHO Square, we exist to provide the essentials, and some luxuries, to urban dwellers in the city of Tampa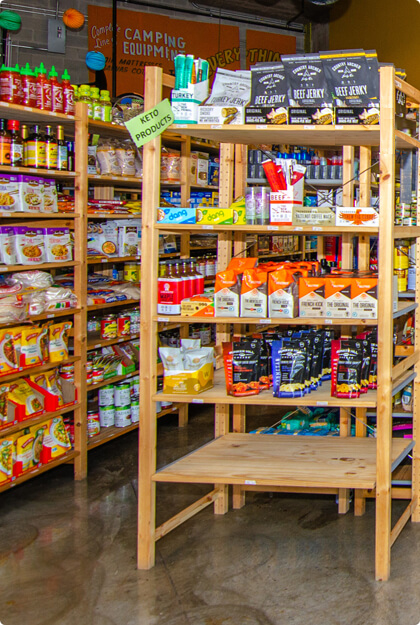 We're Different from Other Grocery Stores
We believe you should check us out quite simply because we're different from our competition. We got our start in 2011 when our original owners – who lived downtown – were out of eggs one Sunday morning and couldn't make breakfast. Wishing there was a local place to pick up some eggs, they immediately saw a need for an urban grocer in Tampa to provide locals with a quick and easy place to pick up the essentials.
But we offer more than milk, bread, and eggs.
At our eclectic grocery stores, we provide urban residents with a variety of food and beverage options, including:
Locally sourced, fresh food
Organic food options
Deli meats, including vegan options
Vegan food
Specialty ice cream
Beer, wine, and spirits
And more!
Other grocery stores simply don't compare when it comes to the convenience, the array of food and beverage selections, and customer service that we offer our loyal shoppers.
Grocery Delivery Through Our Duckdash Delivery App
We know you have a choice when it comes to grocery stores – but does the store you currently shop at deliver? We do! We created our very own Duckdash Delivery App to help busy city residents like you with your grocery shopping. Simply download the app for your iOS or Android device, create an account, and place an in-app order for all the groceries you need. We'll deliver them at a mutually convenient time, and in many cases, we can deliver your groceries to your doorstep about 90 minutes after you placed your order through our app!
Not only do we bring a convenient, specialty urban grocery store, we also bring your groceries directly to you. If you haven't checked us out yet, please stop by today to see what makes us unique!