If you're looking for a local place to buy adult beverages in Tampa, then you absolutely must visit the liquor store attached to our Channel District grocery store!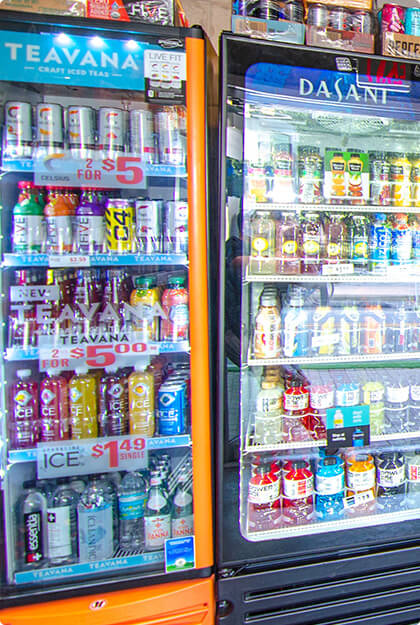 Tampa Food and Beverage
We attached a liquor store to our Channel District grocery store location when we realized there was a shortage of places to purchase beer, wine, and spirits in the neighborhood. Today, while you're conveniently shopping for locally sourced, fresh, organic groceries in the Channel District neighborhood, you can also purchase a variety of great beverages from local vendors and international distributors that you won't find anywhere else!
Beverages in Tampa
We know that Tampa residents like you love to unwind from a busy day and cool off from the hot Florida heat with a nice, ice-cold alcoholic beverage or cocktail. Since there was a shortage of places to purchase such drink items in the Channel District, we attached a liquor store to our grocery location in that neighborhood to make it quicker and easier for local residents to find the beer, wine, or spirits they enjoy the most!
Currently, we are also in the process of opening a new grocery store located in Tampa's Westshore Marina District. This new store will also include a liquor store, where you can buy alcoholic drinks beyond beer and wine from your own neighborhood market!
Local and International Beverages
In our stores, we focus on bringing you quality items while also offering a unique, diverse selection from which to choose. In our Channel District liquor stores, we offer alcohol you can purchase from local vendors, as well as from international distributors. We're a who's who of beer, wine, and liquor and offer options from the convenience of your own neighborhood that you can't find anywhere else in Tampa!
Alcoholic Beverage Mixers
In addition to offering beer, wine, and spirits, we also sell great, local, and fresh mixers to add to your favorite cocktail recipe. From fresh-squeezed juices and more, we've got everything you need to make your favorite drink from scratch – and you don't even have to leave your neighborhood to get the best drink ingredients in town!
Discover Our Unique Beverage Selection Yourself
If you've never been to our Channel District location, you're missing out. Come visit us to see our wide, eclectic selection of beer, wine, and spirits and find out why so many locals swear by us!